Bumble vs. Tinder
Wondering which dating app is better: Bumble or Tinder? Simply interested to know the difference been the two? Here's our breakdown of the differences between Tinder and Bumble.
We'll also give you our conclusions for which app — Bumble vs. Tinder — is best for guys and which is best for women.
Major Differences Between Bumble vs. Tinder
While the Bumble and Tinder dating apps are very similar, here are the major ways they differ.
• There are 2x as many men as women on Tinder. Bumble has 50/50 men and women.
• Bumble markets itself as an app for relationships. Tinder still has a bit of a reputation as a hookup app (though it is used for relationships as well).
• On Tinder, a man or woman can message first. On Bumble, only women can message first.
• Bumble's userbase tends to be slightly more educated and career-oriented. Tinder represents a greater spread of people, including more blue-collar and service-industry workers.
• Bumble offers unlimited swiping (assuming you have enough people in your area not to run out). Tinder limits your swiping unless you buy one of their paid upgrades, Tinder Plus or Tinder Gold.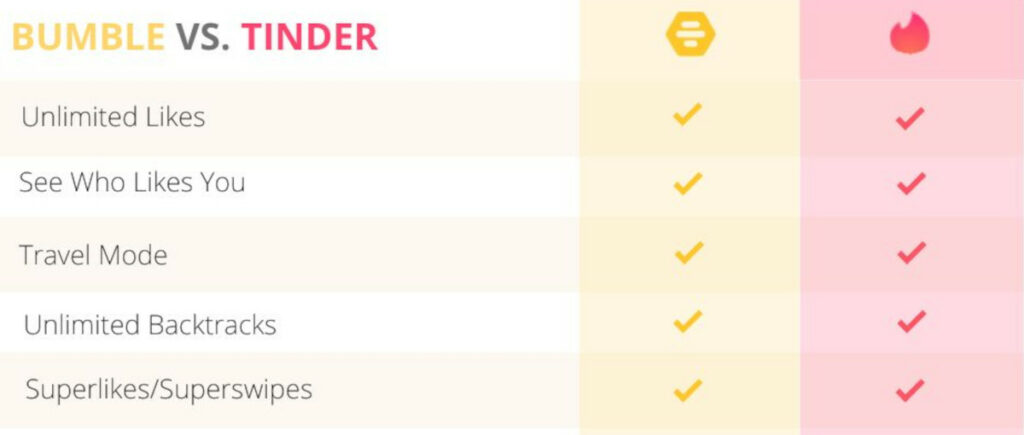 Which Is Best for Women?
Since there are less women than men on Tinder, women's profiles are seen more quickly.
On Tinder, you can send the first message if you want to, but men are likely to do the honors.
However, there's a higher percentage of men on Tinder looking for something casual, and you're likely to get a lot of gross messages.
So if you're a girl…
Tinder and Bumble are equally good for women.
You should probably be on both!
Which Is Best for Men?
Since there are less men on Bumble, men's profiles are twice as likely to be seen.
Plus, women are forced to write the first message, so you'll spend less effort writing girls who aren't into you.
So if you're a guy — and assuming you're not looking solely for one-night-stands…
Bumble is the winner for guys.
(See: A 31-Year-Old Man's Bumble Review)
If you're more hookup-oriented, however, you might have a better shot at that on Tinder.
And that's the Bumble vs. Tinder debate in a nutshell, my friends.
But First: Make Sure Your Pics Are 👌, or You Won't Get Good Matches Anywhere
Sooo many people use photos that make them look way less attractive than they really are.
Don't end up with crappy matches because you unknowingly used bad pics.
Test yours on Photofeeler.
Choosing pics this way has been shown to skyrocket match rates and match quality.