Thinking about upgrading to an OkCupid Premium subscription (previously called OkCupid A-List)? Wondering if it's worth it? This article breaks down OkCupid's premium paid features, what it costs, and more.
OkCupid Subscription Pricing
OkCupid has dynamic pricing, so the price varies person-to-person. The price you get depends on factors like your gender, location, age, or attractiveness.
Australia, Canada, the UK, and the USA have differing monthly pricing.
Some sample prices in the ballpark of what you can expect:
Basic OkCupid:
$19.99/month for 1 month
$19.99/month for 3 months
$9.99/month for 6 months
Premium Subscription:
$34.99/month for 1 month
$29.99/month for 3 months
$24.99/month for 6 months
Add-on Boosts:
$6.99 for 1 Credit
+ Bulk rate discounts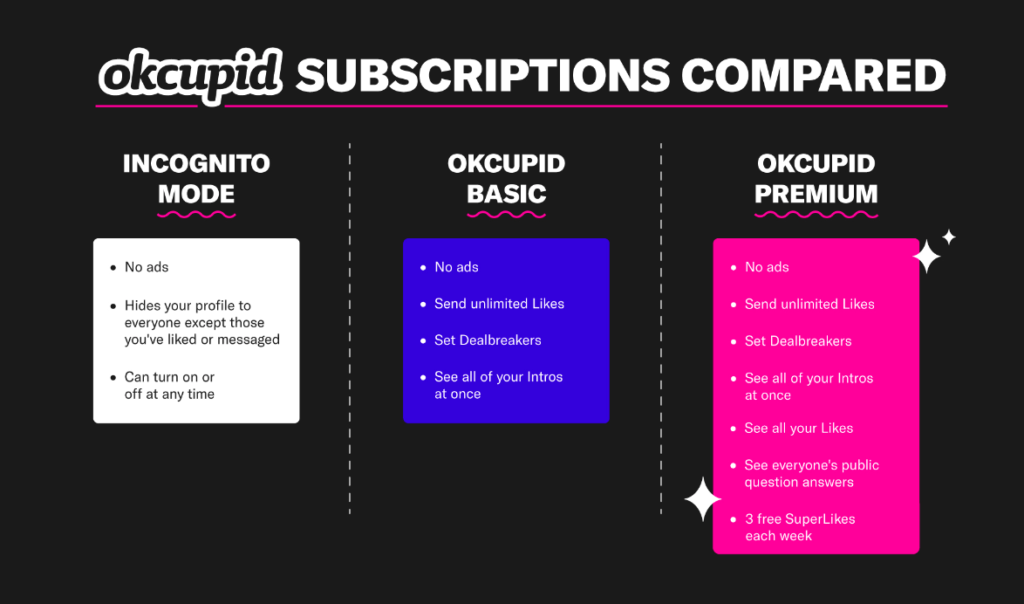 Features You Get With OkCupid Basic
1. Ad-free experience
2. No like limits
3. Set Dealbreakers
4. View all your Intros
Features You Get With OkCupid Premium
You get all of the above features, plus:
1. One free profile boost per day (placing you at the top of the matches page and in quick-match) at a time OkCupid deems busy
2. See other people's answers to questions before you answer
3. Seeing who likes you before you like them
4. More reach
5. Three free SuperLikes every week
Do You Get More Messages/Dates Using OkCupid A-List?
We gathered some information across the web to see if we could determine a tangible outcome from using OkCupid A-List.
Those who said they received more messages and/or went on more dates didn't experience a shocking difference — something along the lines of a 10% increase. Others said their experience was about the same as before.
The bottom line seems to be: paid subscriptions give you a "God view" of OkCupid and a leg-up in terms of being seen. But, ultimately, if people don't find your profile attractive, you're not any better off than you were before.
Is OkCupid A-List Worth It?
Here's what it comes down to.
OkCupid Subscriptions are worth it if: you understand what features you're buying and plan to put them to good use.
OkCupid Subscriptions are not worth it if: you assume more exposure = more messages and dates.
With a bad profile and OkCupid Premium, it's possible you'll just be rejected more often and quicker.
On the other hand, it's possible to be extremely successful on OkCupid's free version if you have an optimized profile.
Look: You don't have to be Ryan Reynolds to be considered highly attractive online. You just have to know how to market yourself well.
Answer? Test your pics on Photofeeler. Choosing profile pics this way has been known to increase Tinder matches by 200-400%. Get the most out of your paid OkCupid subscription.