To "Photoshop" means to edit a photo, much like "Google" means to search the web or "Kleenex" refers to tissue. But Photoshop is not only expensive, it has a steep learning curve as well. Not everyone is willing to learn complicated software just to properly polish up a selfie for Facebook.
The good news is: there are awesome alternatives out there! Here are my recommendations for free online Photoshop alternatives with excellent ease-of-use.
PicMonkey is a great photo editing web app for simple tasks like cropping, rotating, adjusting exposure (brightness, contrast), and balancing out color (temperature, saturation). If your editing doesn't go much farther than these tasks, PicMonkey is my #1 recommendation for an easy and deligtful experience.
PicMonkey also has many great Instagram-like filters you can layer onto your image and super-fun sticker overlays of various objects and shapes to choose from.
In addition to PicMonkey's free version (which you can use immediately, without signing up), PicMonkey also offers a pro version. Pro membership notably opens up tools such as blemish-fixing, airbrushing, wrinkle-removers, and even "makeup."
Pixlr is another amazing free photo editor that works right in your browser online. In contrast to PicMonkey, Pixlr has even more tools available, mimicking many more of the editing actions you could do with robust software like Photoshop.
Of course, more functionality usually means more to learn. Fortunately, Pixlr offers 3 different varieties of their editor– Pixlr Editor, Pixlr Express, and Pixlr O-Matic. That way, you can avoid unnecessary complication whenever you just want to do a few simple tasks.
Fotor, much like PicMonkey, is another free online photo editor with lots of great filters and sticker overlays to pick from.
Among Fotor's unique editing options, the tilt-shift tool is especially cool.
Additionally, Fotor has its own Chrome extension to make the transition into photo editing even faster, if that's what you want to do.
4. Photopea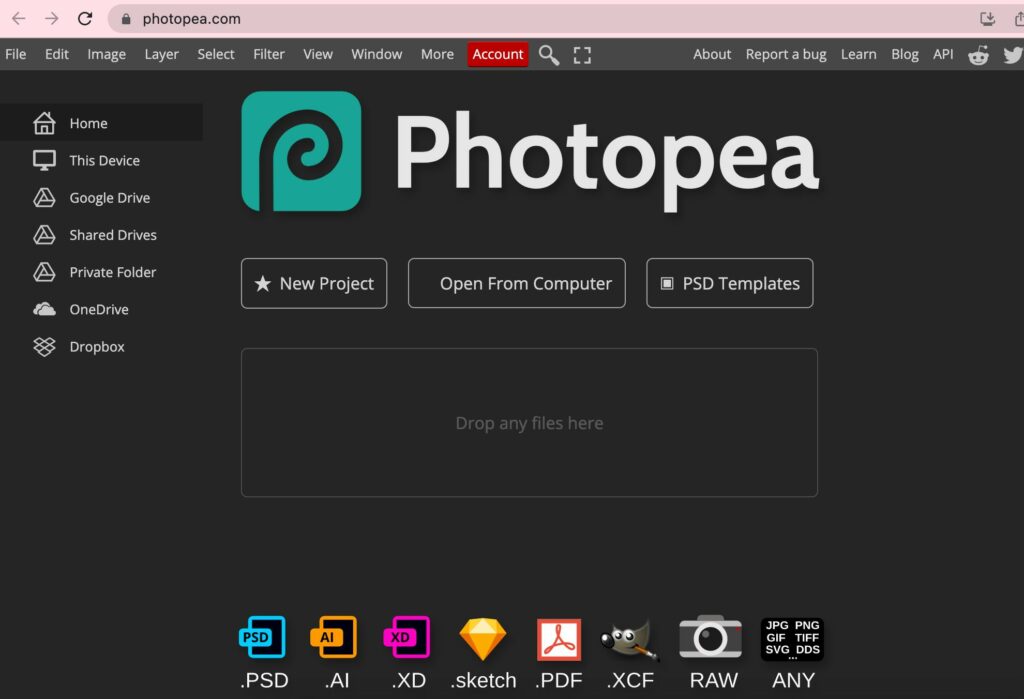 The free online photo editor called Photopea is intermediate to advanced level.
Similar to professional Photoshop tools, you can do almost everything in this photo editor. Remove background distractions, fix blemishes, add filters, or make a complete work of art.
BeFunky, like Pixlr, is more of a Photoshop rival as it offers many sophisticated elements like its Inkify paints and Cartoonizer. Its collage maker and Facebook cover tools are awesome.
Like PicMonkey and Fotor, though, they also play a tight stickers game. From objects, to frames, to backgrounds, they've got fun stuff galore! The only risk you take in using BeFunky is spending way too much time playing with your options.
Know for certain how you're coming across in pictures with Photofeeler. It's free to use here. 🙌