Dating apps are a jungle these days. People are swinging branch to branch, sending out basic intro messages and hoping to catch a bite somewhere, somehow.
The initial wooing and date planning have been overtaken by "Hey, you up?" messages and the occasional unexpected body selfie.
They say a great photograph speaks a thousand words, and we certainly know this to be true. But just because you're a Chris Pratt lookalike or Taylor Swift's long-lost identical twin, doesn't mean that you're off the hook with a cringe bio.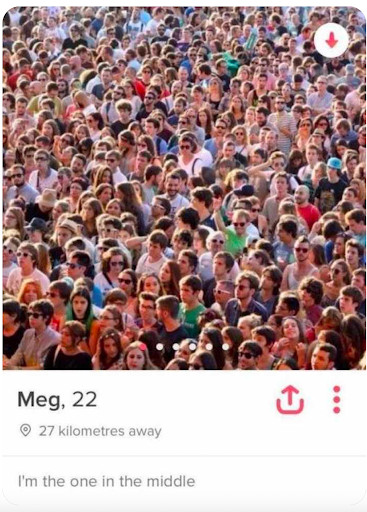 It's easy to advertise yourself on dating apps with a surface-level, yoga-mom, basic phrase like "live, laugh, love." Just keep in mind that you're not going to be loving anytime soon unless you put some quality info in that bio!
Avoid these top 11 dating profile mistakes to make better, genuine first connections.
Dating Profile Mistake #1: Telling strangers your heartbreak story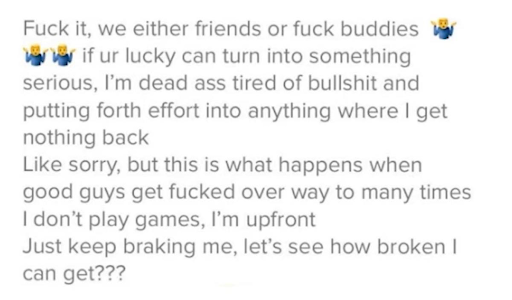 Let's face it– nobody gets out of the dating game unscathed. It's part of the rollercoaster that is dating apps, first dates, and getting to know a complete stranger. Now, it's not all rainy days and sadness when it comes to love; there's a solid chance to make an electric connection.
Starting off with a heartbreak story is a one-way road to chaos; it screams, "Hey, come fix me and be perfect even though I just survived a figurative cardiac train accident." People want a spark, not a dumpster fire. It's not healthy to hold new love interests responsible for harm that others have done to you.
Dating Profile Mistake #2: "I'm a nice guy/girl"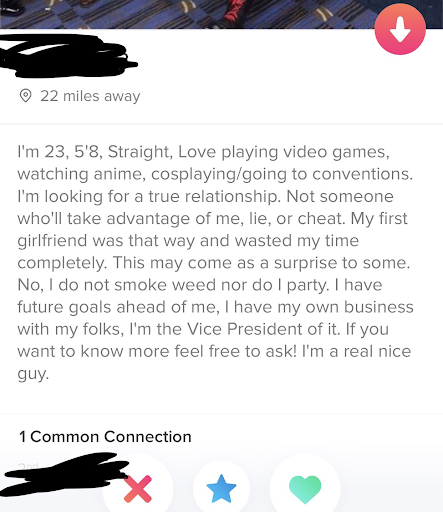 The theory goes, "If one must tell another that they're a nice person, they're probably not a nice person." We don't know who said it, but we know it's true.
Your dating app bio should be used as a space to plug interesting topics of discussion, personality traits (besides being "nice"), and a blip into your lifestyle. Reading this bio, we're unsure of how to even approach this person. Possibly by talking about anime?
Dating Profile Mistake #3: Using The Office as your intro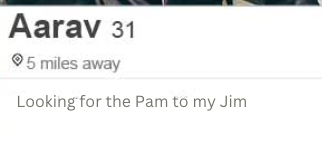 "Looking for the Pam to my Jim"
Sooo… you're looking for an engaged woman?
This one means well, but it's massively overused. Try something more exotic, like the "Kevin to my chili."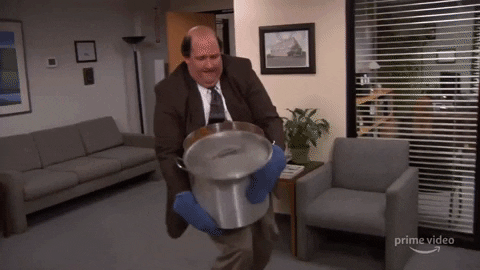 Just as well, putting a random time like "The Office: Season 2, Episode 12, 3:35" does literally nothing for us. Actually, just kidding. Let us quickly pause whatever we are doing, pay for a Netflix subscription, and play this exact moment of The Office so we can somehow deduct any snippet of context regarding your personality.
Dating Profile Mistake #4: Trying to employ your matches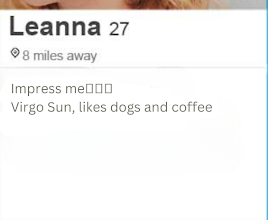 Everyone is created equal on dating apps.
There's no unwritten rule of logic on who needs to message who first or any real etiquette (but you'll get more quality matches if you lead with manners).
Still, here are four ways we've seen singles try to offer other singles a part-time job:
1. "Impress me"
We'd like to, but how? We know nothing about you, Michelle.
2. "Message me first."
*Sigh*, that's all we can say here.
3. "I never use this app."
There are a few questions here. First, what do you expect us to do with this information? Is this an open invitation to stalk you? We're confused.
4. "Better be able to hold a conversation"
Meanwhile, their responses be like:
Dating Profile Mistake #5: Showing how "drama-free" you are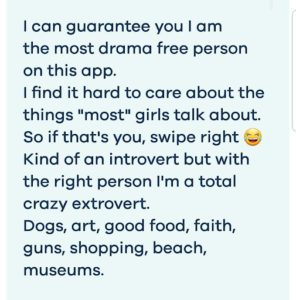 This bio is waving more than one red flag with the keywords "most drama-free person on this app" followed by "crazy extrovert."
If you feel the need to add a "drama-free" label to your 500-word bio, perhaps cleaning up your surroundings is the better first step. Not many people think to add a drama disclaimer unless they are the drama. Plus, what drama is there to have with a complete stranger?
Dating Profile Mistake #6: "If you can't handle me at my worst…"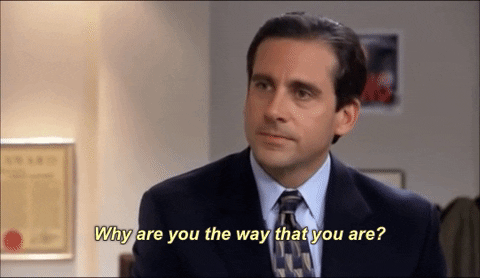 Yeah, yeah, yeah; we don't deserve you at your best, got it.
At this point, we're not certain we want to know your worst or your best. Truthfully, we're just looking for a natural connection, and this seems like admin.
Perhaps it's best to wait until we get to know you, fall in love with you, and then show us your "worst."
Dating Profile Mistake #7: To be tall or not to be?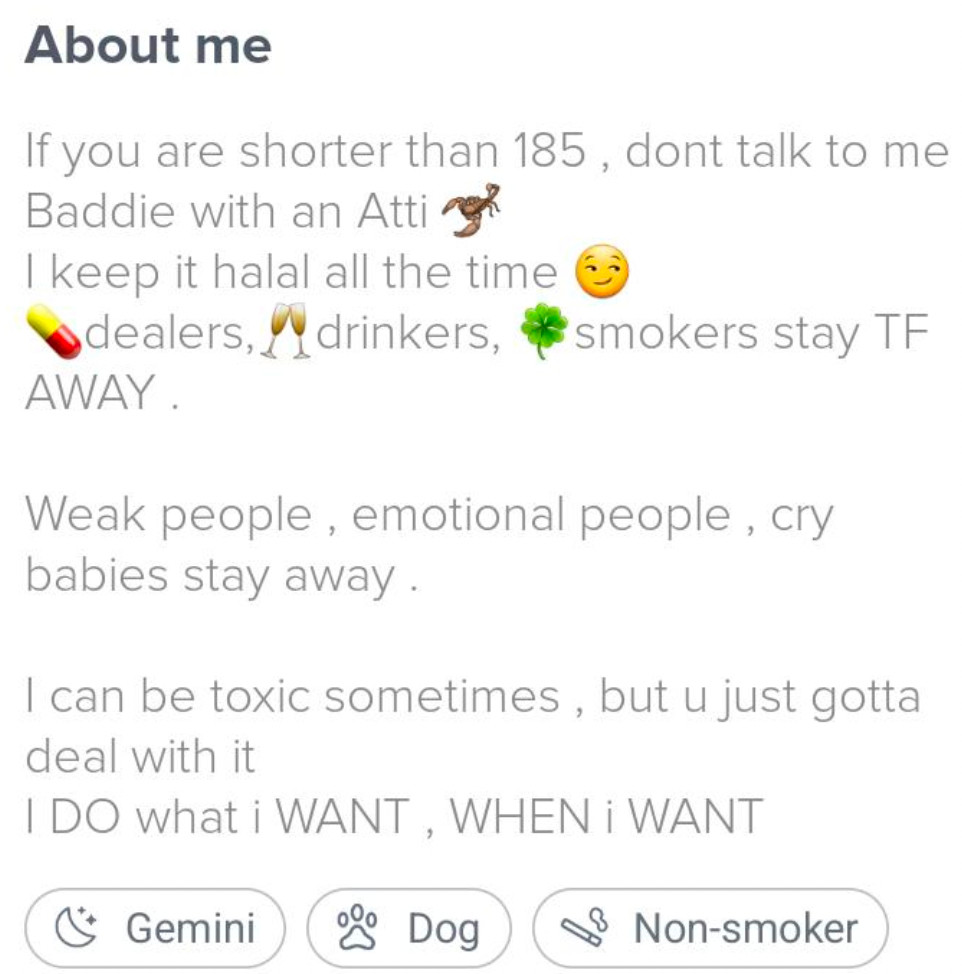 When we come across a dazzling profile, such as the one above, we can see why men are quick to put their height info in the bio.
Not only does it come across as shallow to make your "About Me" section centered on another's height dimensions, but it's also a waste of valuable space.
For male users, try to fight any and all urges to put "I'm 6'3", if it matters," in your bio. If you simply must let your matches know you can dunk a basketball like Lebron, the height without the cheeky "if it matters," can suffice.
Dating Profile Mistake #8: "Swipe left if…"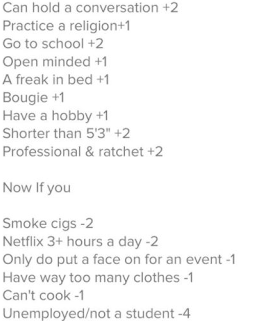 If you make your potential dates fill out a background check before you even hold a conversation, you're missing out on matches.
Nobody's perfect. Why should a stranger try to meet every one of your requirements before you make a connection? Not to mention, this bio tells us everything you're looking for in a person in a toxic-esque fashion without filling us in on anything whatsoever about you.
Dating Profile Mistake #9: Nympho-ing out on a relationship-y app


Before you burn us at the stake, let us explain.
There's a time and place for everything. Depending on what you're looking for, you could be climbing up the wrong tree (or person) if you're looking for a relationship on a hookup-y app like Tinder.
Know your intentions before you set forth on the battlefield that is dating apps. Apps like Bumble or Hinge lean more towards the relationship-seeking vibe, so if you've got Kama Sutra CliffsNotes in your bio, you're likely turning matches off.
Dating Profile Mistake #10: Being "humorous" in a serial killer way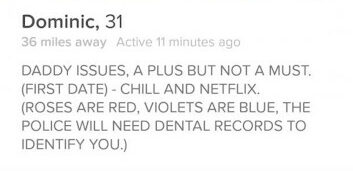 As if it isn't obvious, the last thing anybody is looking for on a dating app is someone that gives them the heebie-jeebies.
We sort of understand the self-deprecating humor, even though it's not ideal. But this? It's an immediate left swipe for us. Also, we're booking an appt at the dentist's office, stat!

The biggest cost to your matching potential is if you just don't make sense on your profile. If your photos scream "religious angel," but your bio shouts "J-Wow and Snooki after 20 tequila shots," then you're in trouble.
We know it's easy to be sarcastic and witty in your dating app bios, and by all means, go ahead; just make sure you're giving people something to work with when they want to make contact with you.
You know yourself better than anyone, so put your selling points, hobbies, and personality bits in your bio, and then come test your top photo pics with Photofeeler to make sure they walk the talk (we know this is backwards, just go with it).